Take the TOEFL ITP Test in

KORAT
Location: 539/14 M.2 T.Bankoh A.Muang Nakhon Ratchasima (View Map)
Tel. 044-246-246, 088-569-6944, 094-662-7711 | Line ID: @alistprokorat
About the TOEFL ITP Exam
The TOEFL ITP exam is a leading english proficiency testing program for ages 16 that allows you to measure and evaluate your english language skills.


TOEFL ITP Exam Structure

The TOEFL ITP exam are available in paper format and use 100% academic content. The tests use academic and social content to evaluate the english language proficiency of non-native english speakers. All questions are in multiple choices per question. The exam evaluates skills in 3 areas. The TOEFL ITP Exam has three separately timed sections.
Listening Comprehension: measures the ability to understand spoken english as it is used in colleges and universities.
Structure and Written Expression: measures recognition of selected structural and grammatical points in standard written english.
Reading Comprehension: measures the ability to read and understand academic reading material written in english.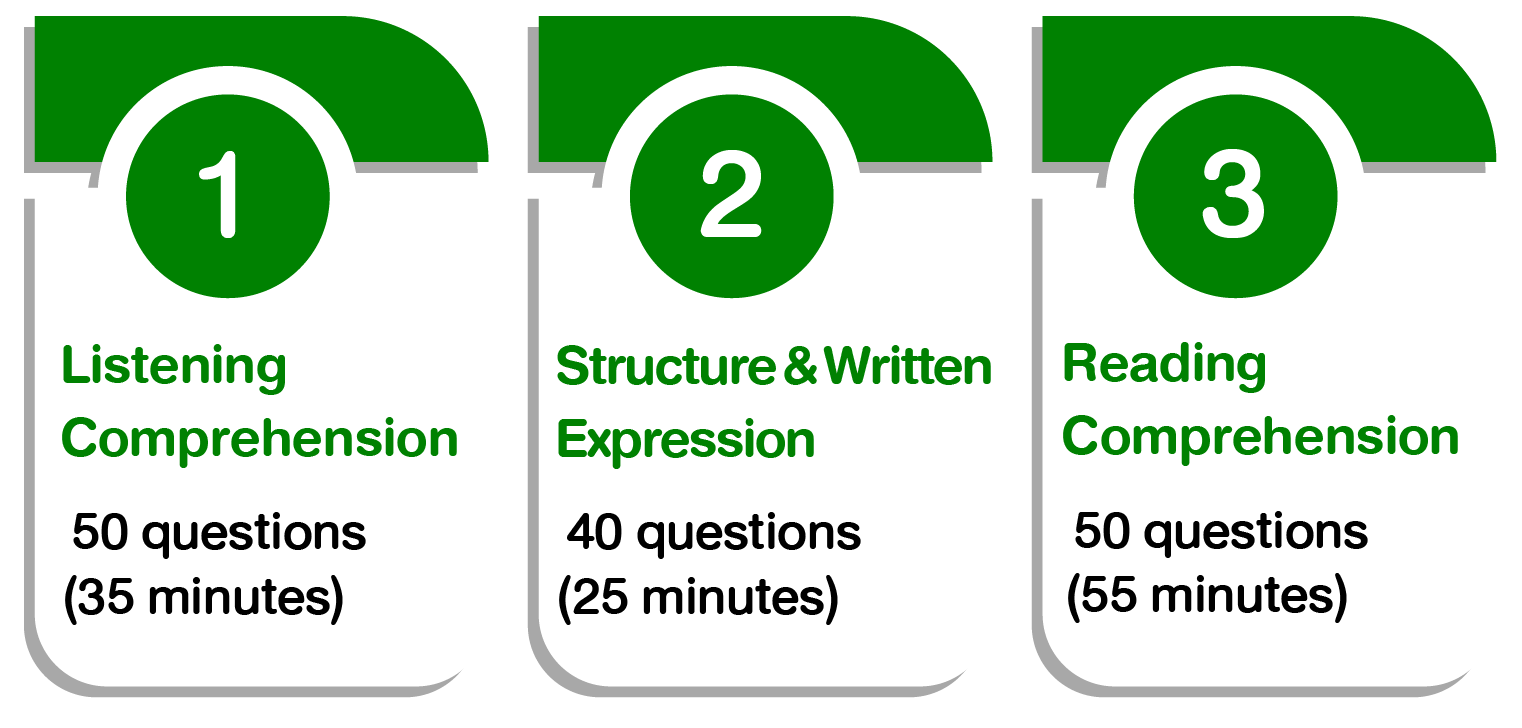 Register for the TOEFL ITP Exam
The TOEFL ITP exam is available at a test center. Tests are held in 3 sessions*.

*
Remark:
During the covid-19 pandemic, the tests are held in 2 sessions (9.00am & 12.00pm).
Before you register
Before you register for the TOEFL ITP exam, choose for a convenient testing location (Bangkok or Korat). We recommend you register at least 7 days prior to your preferred test date.
Be sure the name-surname you use when you register exactly matches the identification card or passport you'll bring on test day.
If you didn't get the TOEFL ITP score you wanted, you can apply to retest as soon as you feel ready. However, before applying for a retest, you need to keep in mind that your score is unlikely to improve without a significant effort to improve your English.
The test takers must be at least 16 years old or the completion 15 years of age. For the test takers under 15 years old, please contact us before registering TOEFL ITP.
Terms and Conditions of Registration
In compliance with the Institute of International Education (IIE), the TOEFL ITP exam policy has been changing with immediate effective;
Register at least 7 days before your desired test date.
Once your online application is completed, you must pay for your registration as soon as possible, but no lather than 48hrs.
TOEFL ITP will not be administered if the test taker are less than 10 persons. In this case, the officer will contact each test taker to reschedule for the next round.
Testing may not take place on two consecutive days and can test twice in one day.
Test Taker may not take the TOEFL ITP more than 15 times in any given month. Once a test taker has reached limited times, then it is prohibited from taking additional ITP tests for a period of 10 days. After 10 days, the test taker may resume testing.
Before you begin your online registration, choose your preferred location. If you choose to test and transfer the money to Korat, you cannot transfer to sit in at Maneeya Bangkok.
If there is a case of transferring the fee to the wrong place, then the test center will rely on the transfer of money according to the account number that has been transferred ex. If you would like to test at Korat and transfer the money to Maneeya Bangkok's bank account, by a mistake, the test taker needs to sit in at Bangkok.
If payment was made, the test taker may not reschedule in no circumstances.
Registration fee is non-refundable and non-transferable in all cases.
Tests are scored by IIE, local ETS TOEFL ITP Associated. Score is final and reliable.
How to Register
The test taker can register for an examination by fill out the online application on the website (click on Register in green bottom below). The test taker must complete all sections of the booking form that are marked as mandatory fully and truthfully.
If the test taker has taken an examination before, he/she can contact the officer via line for retest.
Walk-in registration at test center is permitted for advance booking. Please prepare original identification card or passport for registration.
FEES & Payment
Fees must be paid in advance. All test fee payments must be made in full.

The fee for the TOEFL ITP is Bt.1,900. The fees is subject to change according to the promotions, we kindly ask you to check the price with the officer.
You are welcome to visit our offices and make your payments at front desks by cash. Or, payment by bank transfer must be made to the following account: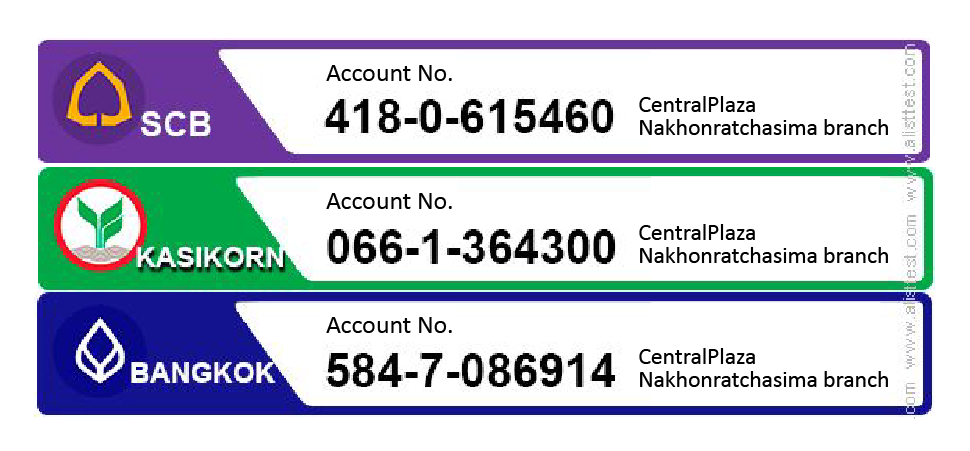 Once you completed your payment, please confirm your payment by sending your payment slip via
Line: @alistprokorat
E-mail: info.korat@alisttest.com

What to bring on the Test Day
Please bring:
Original, valid (unexpired) Identification Card or valid Passport ONLY:
- Present identification card (ID) or passport for admission to the test center.
Two sharpened 2B pencils with eraser.T
- Fill in all responses on your multiple-choices answer sheet.
Facial Mask
- It is required all test takers to wear facial mask to prevent the spread of the coronavirus. You will be prohibited from entering the testing facility without a mask.
On the Test Day:
Please arrive to the test center at least 40 minutes prior to your scheduled testing time.
Present Original, valid and acceptable ID or passport for checking in process.
The exam room will be open at least 30 minutes prior to the start of the exam.
Please wear proper dress and casual. No short pants are allowed in the exam room.
Examination Score Announcement:
Tests are scored by IIE, local ETS TOEFL ITP Associated. Score is final and reliable.
Your preview score in number will be available via Line app within 3-4 days after your test.
Your official score report is typically available in the next 3 days after online score announcement.
Test taker can collect the official score result at the test center by present the original ID or passport.
Or, your official score report will be mailed to you if you requested this option when you registered on the test.
Test scores will be valid for 2 years from the test date.